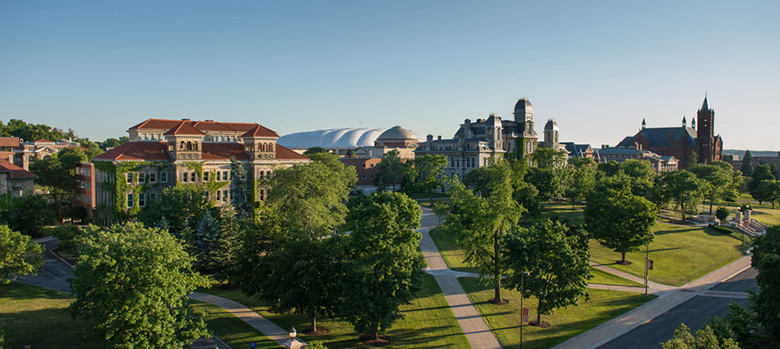 Eligible Returning Students
Room Selection is a process for eligible returning students to select their housing assignment for the next academic year through the housing portal via MySlice.
Here is a quick overview of Room Selection 2022:
Students will need to complete the housing contract which is available on the housing portal beginning February 1.
Participation in room selection.  Select a room during your preferred round.
Students are part of one of two groups.
ORANGE Status
Students who have fulfilled their 2 year residency requirement.
BLUE Status
Students still obligated to our 2 year residency requirement (Fall 2021 & Spring 2022 new first years).
Room Selection Processes:
Living Learning Community Round:

Students must indicate on their Housing Contract for Room Selection that they wish to participate in Living Learning Community (LLC) selection.  Room(s) must be filled to capacity during selection.  LLC selection will include the following opportunities:  Honors Sophomore Experience LLC (Sophomore Honors only), Indigenous LLC, International LLC, LGBTQ+ LLC, Upper-class Multicultural LLC, Substance Free Living Theme Housing, Whitman Leadership Scholars LLC (must be Whitman Leadership scholar), MORE in STEM LLC (sophomores only), MORE in Architecture LLC (Architecture sophomores only) .  Both ORANGE & BLUE may participate in this selection process.

Campus Wide Round of all multiple person rooms and apartments (must fill room to capacity).

Roommate selection will stay open for entire process.
ORANGE status students will only be able to select South Campus locations between all apartment types remaining and Skyhall singles.
BLUE status students will be able to select singles and multi-person rooms in Residence Halls and  2 & 3 bedroom South Campus apartments as well as Skyhall singles.
Have a plan.
What types of rooms would you like to select. Keep options open as not all room types will be available at your selection time.
Who do you plan to select as roommate(s).  Students once the  Housing Contract is completed will be invited to utilize My College Roomie (MCR) to connect with others in room selection who have completed their housing contract.  Please note this information is updated daily so you may need to wait 24 hours before you are able to access the MCR website to set up your profile.

Returning students using My College Roomie (MCR) can utilize this tool to connect with others so that when roommate selection opens during room selection you are ready to make the roommate requests through the Housing self-service portal.  Please note you will be able to select multiple roommates to fill room types to capacity.

Follow your status to know what options you have for selection.
Make sure that you and your roommate(s) select one another (the entire group must match) to be eligible for certain room types.
Each student in the group can log into room selection at their given time but only one student can/needs to select the room for the group.  Once the group is assigned no other selections can occur.
Questions? Ask at the Housing Office, Don't rely on word of mouth!
Additional information will be posted to this page so please come back and visit.