Common Meal Plan Terms
Unlimited Plan: Students on an unlimited plan can eat in any of the five on-campus dining centers as much as they would like. Students are allotted 10 guest meals per semester for friends and/or family.
Block Plan: Students on a block plan choose a number of meals to eat at the five dining centers per semester. The plan resets at the beginning of each semester. Meals from the plan can be used as guest meals.

Meal Plan Dining Dollars: Meal Plan Dining Dollars are a supplemental declining balance that accompanies certain meal plans. Dining Dollars are reset each semester, they do not roll into future semesters. The only way a student can get Meal Plan Dining Dollars is to have a meal plan that comes with them. If a student would like to add more funds to use on campus after their Dining Dollars are depleted, they should add 'CUSE Cash. Check out the locations that Meal Plan Dining Dollars are accepted!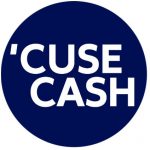 'CUSE Cash: 'CUSE Cash is a declining balance cash account that provides access to food, goods, and services through the SU I.D card. This account is separate from the Meal Plan Dining Dollars account and must be established each academic year. While Meal Plan Dining Dollars may only be used for food purchases, 'CUSE Cash can be spent at nearly every point of sale on campus: Food Services locations, vending machines, campus convenience stores, stores and concession stands in the Dome, and for all products in the Syracuse University Campus Store. 'CUSE Cash account balances carry over from fall semester to spring semester. After Commencement each year, unused 'CUSE Cash balances will be credited to the student's bursar account.
Dining Centers: Ernie Davis, Shaw, Graham, Sadler and Brockway dining centers.