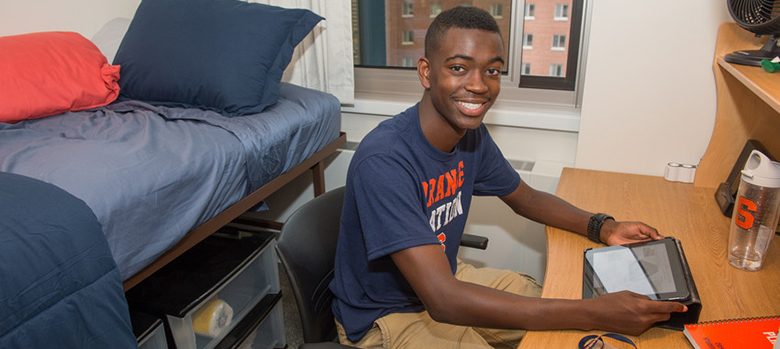 With 21 residence halls, Syracuse University has accommodations to meet all of your residential needs. Browse our information about specifics related to each of our residential facilities.
Housing assignments for all new students are random at Syracuse University. New students may not preference a specific residence hall or room type. Upper-class students will self-select their housing during the annual room selection process, held each spring.
Students are required to live on-campus for their first two years of enrollment.
Our residential facilities are maintained by Facilities Services, which is a part of Campus Facilities, Administration and Services.
Tobacco-Free Campus
To help ensure a healthy, productive, respectful environment in which to work, learn and live, Syracuse University is committed to providing a smoke- and tobacco-free campus. While smoking is currently banned in all University buildings, this policy also prohibits smoking and the use of all tobacco products on property owned, operated, or controlled by the University, indoors and out. It applies to all University students, staff, and faculty, as well as all alumni, volunteers, visitors, contractors, and vendors.  "Smoking" is defined as inhaling, exhaling, burning, or carrying any lighted or heated cigar, cigarette, pipe, or other device designed to accomplish, enable, or imitate the act of smoking, including electronic cigarettes (e-cigarettes), hookahs, and all vapor/vaping devices.