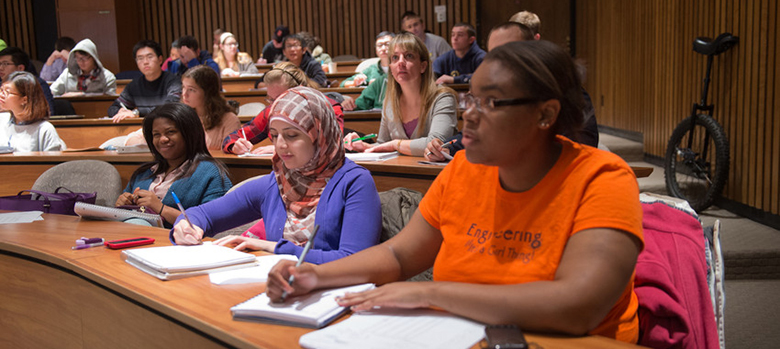 Your Housing Application
Syracuse University provides housing for approximately 70 percent of our undergraduate students. We provide housing opportunities to all students and assign students as roommates on an equal basis without regard to race, religion, sexual orientation, or national origin. Your advance tuition payment and advance housing payment must be submitted by May 1 to ensure that on-campus housing is available to you.
By completing the online housing and meal plan application, you are expected to comply with the rules and regulations established in the University's Housing Agreement. Please note: Syracuse University first- and second-year students are required to live in University housing.
It's important to also note that your housing agreement is for the full academic year, although the room charge is paid by the semester. You are expected to live in your assigned room from the end of August until the middle of May except for the academic recess between semesters. New students who are not required to live in University housing may cancel housing arrangements until June 1 (fall applicants) and January 1 (spring applicants). After that date, your housing commitment is financially binding.
Steps you must complete before gaining access to the online housing application:
Accept your offer of admission by submitting the Admission Acceptance Form, your advance tuition payment of $500 and advance housing payment of $450 (if you plan to apply for University housing) by the date specified in your letter of admission.
Access your official Syracuse University e-mail account.
The Syracuse University Housing Office will send an email to your syr.edu e-mail account once your information is confirmed so you can complete your housing application.
Your NetID
Access to the University's computing and network services is controlled by a unique personal identifier – the NetID. If you have not activated your NetID, please do so now! It's simple to activate your NetID from your home computer by visiting http://its.syr.edu/netid/. You will need your SUID, which is included in your letter of admission.
MySlice
MySlice is your secure virtual gateway to life at SU including access to your Admission Acceptance Form (AAF), advising, viewing the online course catalog, registering for classes, and accessing financial aid, tuition, housing and meal plan information and services. You can also configure MySlice to share 'pieces' of your access with others, such as your parents (click on "Share My Account"). You can get to MySlice at http://myslice.syr.edu.
SU Email
Official email accounts for students are established in a system called SUmail. This system provides students several powerful and convenient features. Syracuse University has established email as the primary vehicle for official communication with students, faculty, and staff. All University communications sent via mail will be sent to your SUmail address upon your matriculation to Syracuse. For more information on SUmail, check the "new students" section at http://its.syr.edu.
New Transfer Students
Transfer students who have completed fewer than 40 academic credits are encouraged to reside in University housing unless they are students with families or students who commute from the permanent home of their immediate family. Housing for new transfer students is on a space-available basis until all available spaces are filled. New transfer students will reside within our South Campus SkyHalls and apartment community.
New Commuter Students
If your immediate family resides within the immediate Syracuse, NY area and you plan to commute from home, please complete the commuter application which is available through the housing self service page via MySlice.
The Office of Off-Campus and Commuter Services (OCCS) provides all students living off campus with support, information, and resource referrals throughout their off-campus housing or commuter experience. Students who opt for off-campus accommodations can visit the OCCS website at http://occs.syr.edu to learn about the network of educational and community services available to them.
Important Housing Information
New students can choose to be part of a learning community or interest housing option or be assigned housing randomly.
You are invited to become involved in one of the living and learning opportunities designed to complement and enhance your educational experience at Syracuse University. Many students find that these special opportunities help ease the transition to college life, providing them with a group of peers and friends who become like a family away from home. To learn more about the learning community options offered at SU please visit lc.syr.edu.
If you are not interested in a learning community or interest housing, you will be assigned housing through our randomized housing management assignment system where a computer program will assign you a room and roommate.