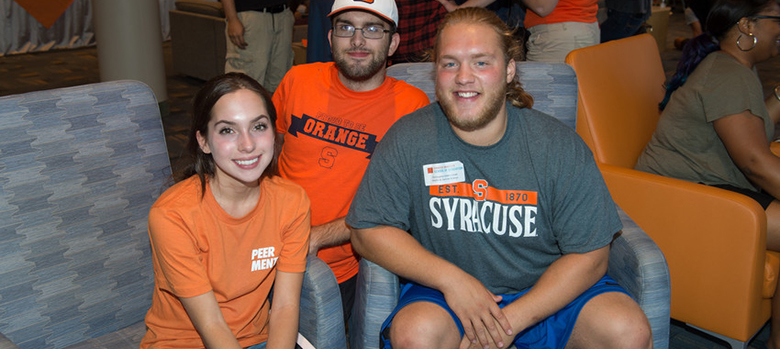 Syracuse University has approximately 8000 beds available to students.  Priority in housing is given to current freshmen who are required to fulfill their first two years in University owned and operated property,
incoming freshmen and a limited number of transfer students. Transfer students live on South Campus, both in the Skyhalls in double rooms as well as apartments.  Meeting other transfer students will provide you an opportunity to navigate the campus together.
Once a transfer student matriculates to Syracuse, within one week, you will receive an email from the Housing Office encouraging you to apply for housing. Since there are a limited number of beds available, applying early is strongly encouraged. Beds are typically filled by early June. Our website will be updated once we have filled all of our transfer spaces.
The University's housing placement process is random for all new students. Our system allows for roommate matches if you have a fellow transfer student you would like to live with.
Transfer students residing in the Skyhalls are required to take advantage of one of our University meal plans. Meal plans flexibility is based on your class standing. Students living in the South Campus apartments are not required to have a meal plan as each apartment is equipped with a full kitchen.
Transfer students should be sure to familiarize themselves with several important dates related to living in University housing. Our online calendar of important dates is continuously being updated and will help to keep new students informed of any upcoming deadlines related to housing and/or meal plans. Also remember to keep your syr.edu email account up-to-date as the Housing, Meal Plan and ID Card operation uses email as an official line of communication with students. We use email to send updates and notifications regarding the room selection process, relocation opportunities and meal plan change deadlines.