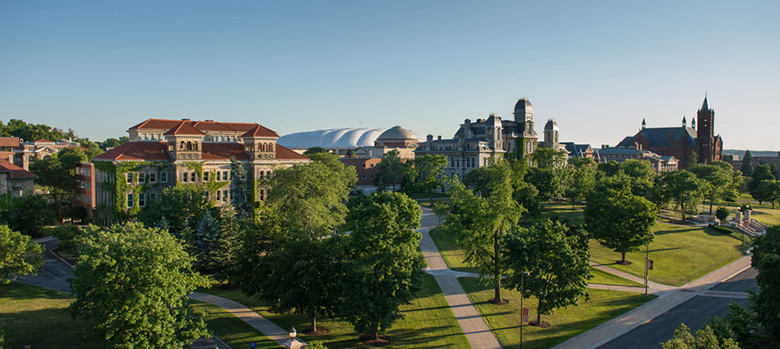 For Eligible Returning Students
Room Selection is a process for eligible returning students to select their housing assignment in the spring semester for the next academic year. The process will consist of stages in which different types of rooms are chosen. The goal is to distribute rooms fairly.
Here is a quick overview of Room Selection 2020:
On February 3rd a $450 advance housing payment request (e-bill) will be sent via email to all eligible Room Selection candidates' syr.edu email address. This advance payment whether it is paid, a credit applied or a waiver requested (students that receive 70% or more financial aid) must be made in order to participate in room selection.  The deadline is March 2 to complete this step.
Students will need to complete the housing contract which is available on the housing self service page via MySlice. Deadline is March 2 to complete this step.
Participation in room selection.
Students will participate in one of two tracks.  Visual View of Process
ORANGE Track
Students who have fulfilled their 2 year residency requirement.
BLUE Track
Students still obligated to our 2 year residency requirement (Fall 2019 & Spring 2020 new freshmen and transfer freshmen).
Room Selection:
Singles rooms (North Campus Residence Halls and 1 bedroom Apartments on South Campus) will be open for online selection to all eligible ORANGE Track students. (Current residents and those SU Abroad and COOP/Internship students who lived in university housing the semester prior to there experience).
In person selections of apartments on South Campus open for both ORANGE & BLUE track students.

Students wishing to select an apartment (must fill the apartment to capacity).

Online selection of all multiple person rooms and remaining apartments (must fill room to capacity).

Roommate selection will stay open for entire process.
ORANGE Track students will only be able to select South Campus Apartments.
BLUE Track students will be able to select multi-person rooms in both Residence Halls and South Campus Apartments as well as Skyhall Singles.
Have a plan.
What types of rooms would you like to select. Keep options open as not all room types will be available at your selection time.
Who do you plan to select as roommate(s).
Follow track to determine dates you must complete selections.
Make sure that you and your roommate(s) select one another (the entire group must match) to be eligible for certain room types.
Each student in the group can log into room selection at their given time but only one student can/needs to select the room for the group.  Once the group is assigned no other selections can occur.
Questions? Ask at the Housing Office, Don't rely on word of mouth!
Additional information will be posted to this page so please come back and visit.