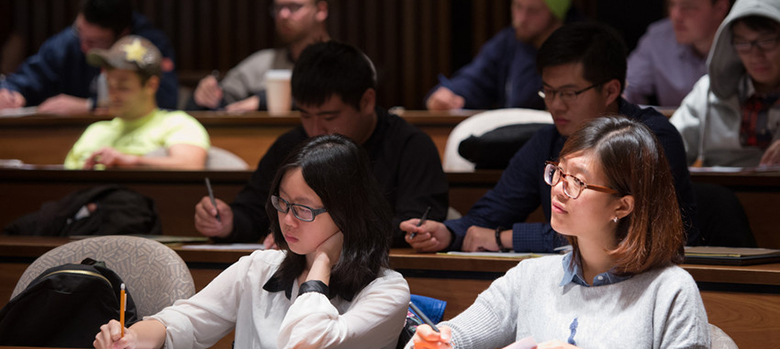 Each year, new students (first-year and transfers) occupy approximately 3,500 beds within our residential facilities located on North and South Campuses. All first-year students will reside within North Campus residence halls while new transfer students typically reside within our South Campus SkyHalls or South Campus apartments. Syracuse University requires students to reside on campus during their first two years of enrollment (however new transfer students are not required to live on campus).
My College Roomie
The Housing Office utilizes the My College Roomie program to assist first-year students in their search for a compatible roommate.
My College Roomie is a user-friendly website that provides an opportunity to connect with fellow first-year students and possibly select a roommate before arriving on campus. On My College Roomie, users create a profile for themselves, answer questions about their habits and hobbies, and select attributes to discover what they have in common with other new Syracuse students.
To receive your email invitation to join My College Roomie, you must:

Complete your Admissions Acceptance Form (AAF), accessible on MySlice.
Submit any applicable advance payments as noted on your AAF.
Complete the Housing Application, accessible on MySlice.

You will have a few months after your admission to make a roommate selection. Keep in mind that as spring goes on and more students commit to Syracuse, your pool of possible connections and roommates will grow. Make a point to return to the My College Roomie to site to see what new connections are available. If you're interested in a Living Learning Community (first-year students only), you will have the option to find other students with that same interest.
If you opt not to select your roommate, a roommate will be assigned to you by the Housing Office.
Room Assignment Process
The majority of the incoming class will be placed randomly into open double and split double rooms. Some first-year students will be placed into triple and quad rooms. Incoming transfer students are typically placed within open-double rooms and two- and three-person apartments. Housing is guaranteed for all first-year students but is not guaranteed for all transfer students. On-campus housing for transfer students is managed on a space-available basis until all allotted spaces have been filled.
New students residing in our residence halls are required to have a University meal plan.  Those new students residing in South Campus apartments are not required to choose a meal plan, as each apartment is equipped with a full kitchen.
New students should also be sure to familiarize themselves with several important dates related to living in University housing. Our online calendar of important dates is continuously being updated and will help to keep new students informed of any upcoming deadlines related to housing and/or meal plans. Also remember to keep your syr.edu email account up-to-date as the Housing, Meal Plan, and I.D. Card operation uses email as an official line of communication with students. We use email frequently to send updates and notifications regarding the room selection process, relocation opportunities, meal plan change deadlines, etc.