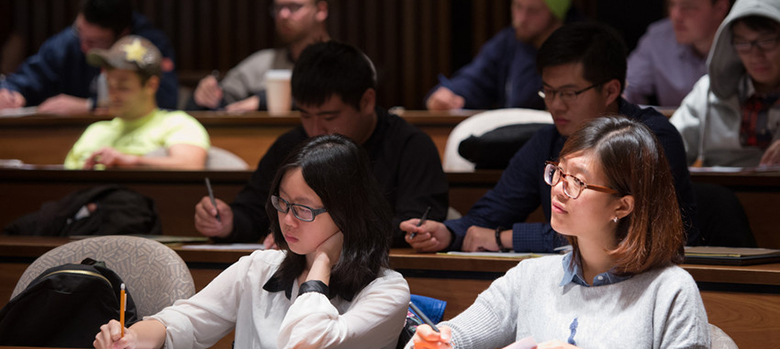 Each year, new students (freshmen and transfers) occupy approximately 3,500 beds within our many residential facilities located across both North and South Campuses. All freshmen will reside within North Campus residence halls while new transfer students will reside within our South Campus SkyHalls and a small amount within our South Campus apartment flats and townhouses. Syracuse University requires incoming freshmen to reside on-campus during their first two years of enrollment. New transfer students are not required to live on-campus. With the two-year University housing requirement our housing operation continually strives to improve the residential living environment for all students through annual facility renewal and building upgrade projects.
The University's housing placement process for new freshmen is random – meaning, our office uses an online housing management system to randomly place students into beds within our numerous residential facilities. This system will also match roommates. Our office does not allow new students to preference housing choices (building or room-type), nor do we facilitate a roommate matching/compatibility survey.
The majority of the incoming freshmen class will be placed randomly into open double, and split double rooms. Some freshmen will also be placed into triple and quad rooms. Incoming transfer students are placed within open-double rooms and two- and three-person apartments. Housing is guaranteed for all freshmen but is not guaranteed for all transfer students. On-campus housing for transfer students is managed on a space available basis until all allotted spaces have been filled.
New students residing in our residence halls are required to take advantage of one of our University meal plans. Freshmen must choose from 21, 19, or 14 meals a week. Transfer students living in residence halls must also choose a meal plan, but may be able to choose a lower one based on class standing. Those new students residing in South Campus apartments are not required to choose a meal plan as each apartment is equipped with a full kitchen.
New students should also be sure to familiarize themselves with several important dates related to living in University housing . Our online calendar of important dates is continuously being updated and will help to keep new students informed of any upcoming deadlines related to housing and/or meal plans. Also remember to keep your syr.edu email account up-to-date as the Housing, Meal Plan, and I.D. Card operation uses email as an official line of communication with students. We use email frequently to send updates and notifications regarding the room selection process, relocation opportunities, meal plan change deadlines, etc.